MOBILE SOLUTIONS TO COMBAT THE SPREAD OF THE PANDEMIC.
During this worldwide health hazard time, we could not stay aside, so we came up with a project for a COVID Mobile Hospital, containing segregation and decontamination lock chambers. We have organized a series of e-meetings and talks between doctors, hospital directors and health care technicians in Poland. The result is the prototype of a screening station.
According to information from doctors at hospitals worldwide, the worst times of the crisis are still to come and hospitals are not prepared for this eventuality. The result of such unpreparedness: the possible spread of infection among the entire hospital populations. Through the information we've been receiving from reports and daily news, this is a problem that affects practically all hospitals, from the most modest structures to the most modern and sophisticated hospital facilities. Hospitals around the world have simply not been prepared for a pandemic.
The project has already been reviewed and approved by several medical authorities who have already been experiencing the problem of contamination in their hospitals.
This is very important and it is time to act quickly, that is why…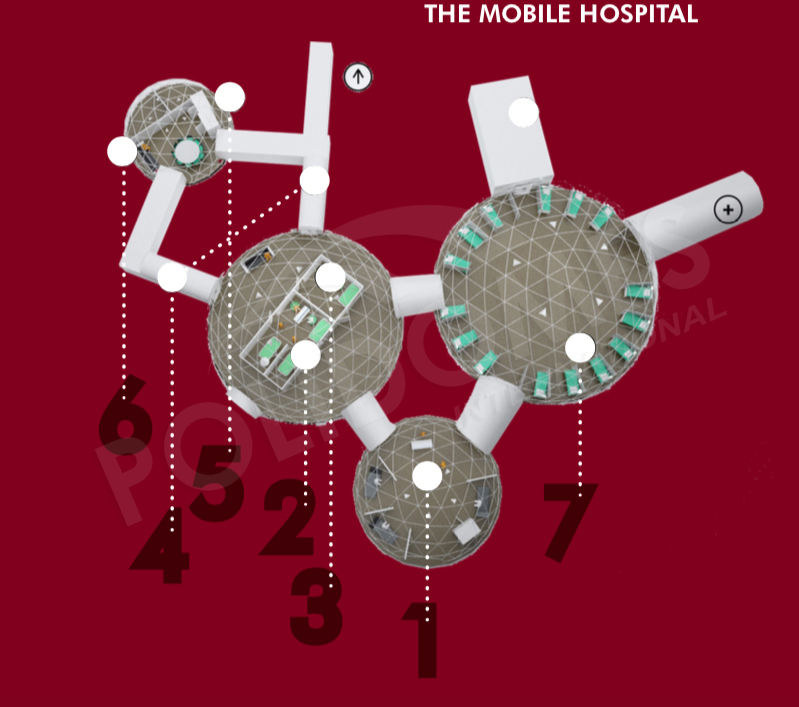 Polidomes announces planned construction of an innovative, epidemiological, multi-profile, mobile hospital. The hospital is composed of a cluster of spherical, connected dome structures and includes an ​​initial segregation and patient admissions area that employs the latest IT technologies. The hospital is specially designed to reduce the risk of spread of SARS-CoV-2 virus and its variants. The hospital uses HVAC filtration and provides separate isolated spherical wards for treatment of all levels of COVID 19 patients. The hospital is built to last for many years and designed to treat victims of any type of epidemiological, biological or emergency situation requiring strict hygiene and hospital-grade measures.
The modular, cluster-shape of the connected spherical structures allows for the hospital to be ergonomically arranged to allow safe and easy communication between the individual hospital units/departments. The design of the connected spherical buildings permits safe intersections between "clean" and "dirty" zones and provides full isolation areas including negative or positive pressure rooms in which patients with COVID 19 can be treated. During a pandemic, safely maintaining complete isolation of sick patients is a key element for reducing the spread of SARS-CoV-2 or other infectious diseases.
The hospital is designed and space organized for patients to follow a step-by-step diagnostic and therapeutic path of care – from initial testing and diagnosis, through treatment and final release.
The architecture and organization of the mobile hospital will allow for multi-specialist treatment of patients infected with SARS-CoV-2 virus. The hospital will have separate areas that provide a full range of therapeutic and diagnostic activities, starting from an area for observation and isolation procedures through areas with the latest in advanced treatment and therapeutic measures available for patients.
The hospital's segregated spherical rooms can easily be adapted or used for other purposes, such as operating rooms or even dedicated to obstetric and neonatological procedures or surgery units for both children and adults.
To provide the highest level of patient service and care, modern IT technologies will be used to optimize the diagnosis and treatment process, including teleradiology and equipment to enable remote specialist consultations. Modern technologies will also be used to manage the building's safety with access control and supervision of dirty/clean therapeutic areas. To improve patients' comfort and care during isolation, there will be facilities to provide remote virtual contact with family and loved ones.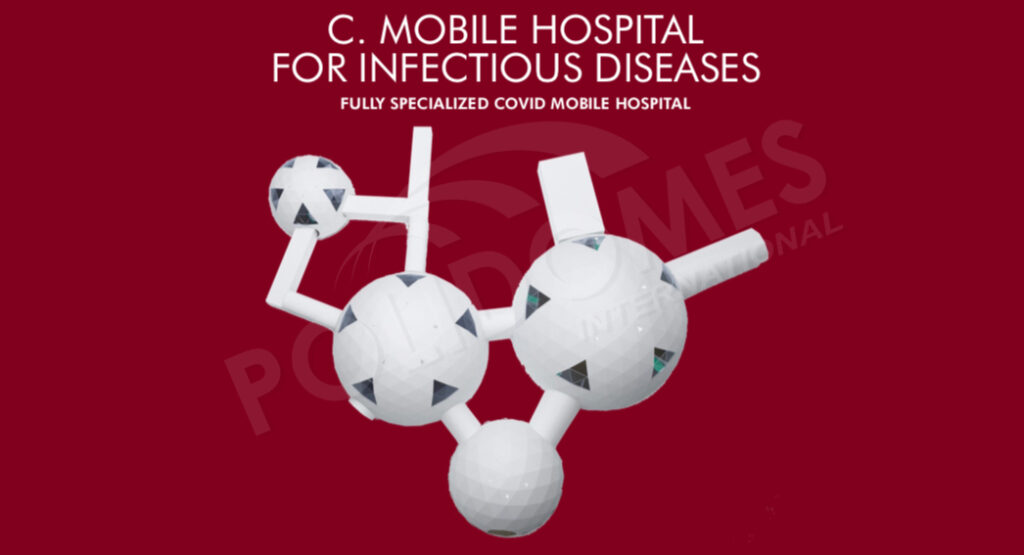 All these solutions are aimed at limiting the risk of spread of the SARS-CoV-2 virus and providing ultimate care of patients and protection of staff. Changes to the organization of the flow of traffic and the arrangement of individual functions of individual units will be introduced based on trial observation of staff and patient movements via radio location technology. The data collected during the project's duration will be aggregated and then, based on the indicated modifications of the mobile hospital's functional layout, locations, arrangements and order of procedures will be introduced.
During the study, standard operating procedures will be developed for patients infected or suspected of being infected with SARS-CoV-2 virus to minimize the risk associated with transmission and spread of infection among staff and hospital patients.
The introduction of the indicated model's SOP and integration and organization of the hospital's workflow by the model may result in obtaining accreditation granted by the Quality Monitoring Center for Health Care. The effect of research and development will allow for continued smooth and effective operation of these multi-specialized hospitals as well as uninterrupted operation of the hospitals during a pandemic.
Project goal:
1) Development of a mobile hospital model ensuring segregation, isolation and multi-specialist treatment of patients infected with SARS-CoV-2 virus.
2) Development of a model diagnostic and therapeutic path for patients, from the moment of entry to the Reception/Emergency Room on through the end of need for hospitalization. Changes in the organization of traffic and the location of functions of individual units will be introduced based on the observation of the movement of staff and patients collected via radio location technology, resulting in the creation of a highly effective hospital.
3) Determine the costs and functionality of the solutions to be employed in relation to the strategy used during the SARS-CoV-2 pandemic.
4) Development and application of modern audiovisual methods of communication between medical staff and patients as well as for patient-family contact.
5) Obtaining the final effect – smooth and effective functioning of multi-specialist hospitals rather than single purpose hospitals.
Project implementation methodology
As part of the project, based on the technology and connectivity of the spherical buildings, an innovative model, multi-profile hospital for treatment of infectious diseases will be developed and constructed. The advanced technology of spherical domes allows the construction of the entire mobile hospital to be completed in a period of 3-4 months. Assembly time of a completed hospital is only a few days. Compared to traditional construction, these types of structures last, uphold full hospital standards and requirements, and are characterized by an incomparably shorter assembly time and significantly less costs.
The hospital plan is based on a circular cluster, with non-intersecting, clean and dirty paths clearly established as well as radial paths that connect the different zone areas. The central, largest sphere will be able to accommodate all centralized medical functions of a multi-profile hospital.
The separate areas include: reception – initial diagnosis and segregation; social/rest area for medical staff, technical/records station; catering and storerooms. All rooms will be placed in the form of satellite units in relation to the central dome. Physical communication between the central area performing medical functions and satellite units will be carried out in a secure manner through medical locks. Above the central part of the first floor will be auxiliary rooms and places for staff to rest during on-call time without needing to leave the medical zone (this loft-like area will be a clean-safe zone).
Based on the functionality of the rooms described above, a model diagnostic and therapeutic path will be prepared for patients to follow from the moment of entering the hospital until the end of their hospitalization stay. Movement of staff and patients will be tracked and analyzed by a radio system collecting information on the time, person's status and amount of traffic in individual rooms of the hospital. The data will be aggregated and the functions of individual rooms modified as needed. Due to the spherical design and technology, the versatility of the building's rooms allows for easy rearrangement of unit functions to obtain the optimal layout, i.e. avoiding intersection of communication routes by minimizing time between procedures and optimizing the location of personnel and eliminating intersection of clean and dirty paths. The results of these tests will be aimed at minimizing the possibility of contamination with SARS-CoV-2 virus.
To meet the requirements of such a model hospital, individual medical procedures and functionalities of solutions and their application to fight SARS-CoV-2 virus will be well established and clearly described. To limit contact (as staff always run the risk of infection from patients with SARS-CoV-2 virus), a "guide" type audiovisual system will be developed and introduced, which will be personalized and will direct the patient both audibly and visually along the correct path. Based on radio technology, a patient identification solution, providing location and recommended tests will be introduced. The second function of the system will be the possibility for patients to maintain contact with their families. This is a very important element for improving the quality of life of patients who have been completely cut off from their families during time of treatment in an infectious disease hospital.
The introduction of the above solutions and the implementation of the mobile hospital with the proposed technology and proposed system will allow the creation of a highly functional and safe epidemiological hospital that will be able to effectively combat SARS-CoV-2 virus and other infectious diseases.