We noticed that not only Polidomes international team features with talented and uncommon people, but what we do also attract extraordinary individuals. That makes our work even more interesting! We decided to open the curtain and introduce some of our clients that are passionate about what they do and design the future of their field.
Let's meet Dr. Michael A. Danielides – a space science consultant. Passioned about space physics Dr. Danielides is being for over 35 years in the planetarium game.
His trip as a space scientist started in 1997, when he joined as a graduate student the space physics group of Oulu University, Finland with the desire to understand the physics behind some of the most spectacular phenomena of space physics – the Aurora Borealis. Later there was a long stay in Alaska (USA), which was funded by NASA's Living with a Star program. Then followed research projects with the German Aerospace Center and EISCAT association in Norway, Sweden, and Finland. During all those scientific trips Dr. Danielides often had to deal with geodesic dome tents.
Finally, since 2013 Dr. Danielides is a CEO of the scientific and technical consultant firm "Danielides Space Science Consulting (DSSC)".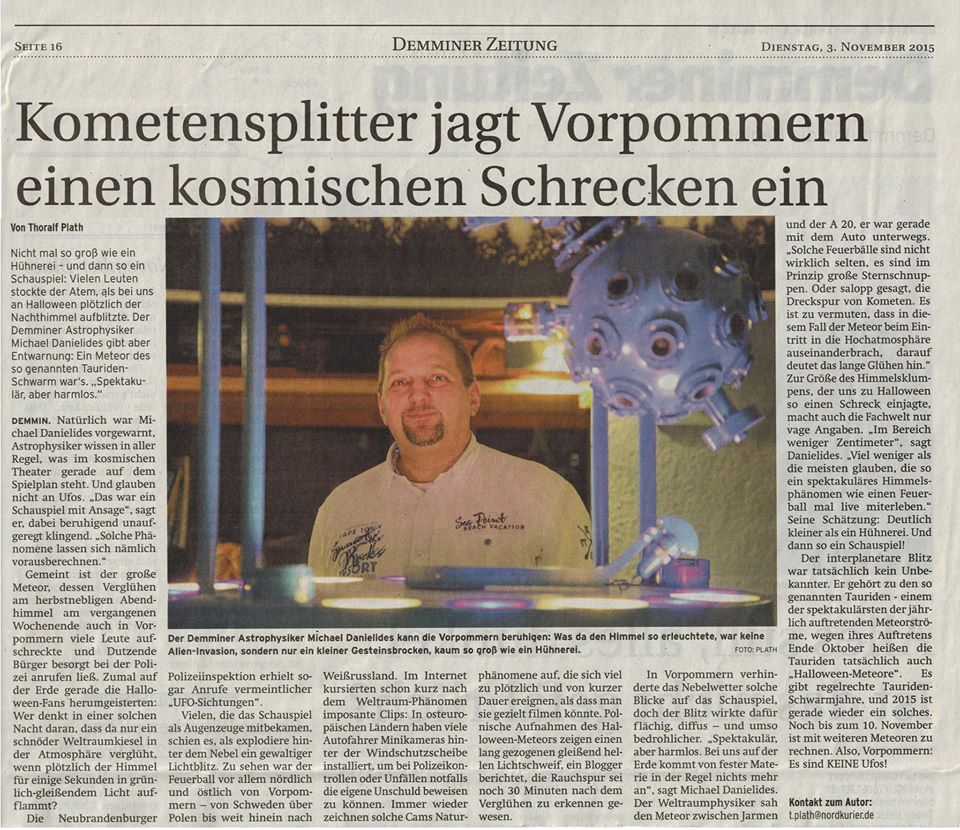 "I saw a lot of other tents. They are not bad! But the touch doesn't feel good… So when I look on the geodesic dome tent, I see the thing right away."

– said Michael
---
Planetariums
Traveling around the world allowed Dr. Danielides to visit hundreds of planetariums! For the last 7 years, he is managing the "Astronomiestation", which consists of a small Zeiss Planetarium and an astronomical observatory in Hanseatic Town of Demmin (Germany). There in 2019 under his guidance, the full-dome projection was built as an add-on to the existing analog Zeiss Planetarium projector SKP-2. Interesting thing is that Dr. Danielides' observatory serves not only for educational purposes but is also a popular venue for different kind events, like exclusive dinners or art events.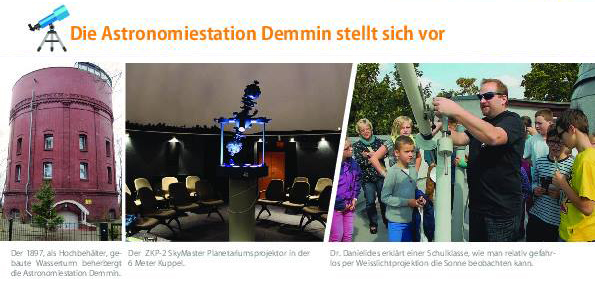 ---
Semi-mobile planetarium
Considering that Zeiss Planetarium with observatory is in great demand and there is a great number of school groups that have to travel a long distance to make a visit, the idea of semi-mobile planetarium arose. This idea of the semi-mobile planetarium is guided by the requirements that the facility has to be able to be transported from one place to another, offering high-quality full-dome projection services. Obviously the option with inflatable planetarium was dismissed from the start because of too poor quality of the projection screen.
As the European player, in search for the same provider, Dr. Danielides contacted Polidomes – that's where the stars aligned.
Polidomes is the manufacturer of the geodesic structure located in Poland, which is a part of the European Union. That means that the quality of the products meets the highest requirements, transportation is without hindrance and the most important – customer service is near-at-hand. In Polidomes we are always glad to welcome guests to our production site and get to know our clients closer.
"Karolina – she can make a vision! And she did surprise me with the collaboration offer."

– smiled DSSC' CEO Michael, talking about Polidomes' CEO.
As a full-dome projection specialist, Dr. Danielides picked the Polidome 50 mobile geodesic dome tent with the special inside projection screen to create a semi-mobile planetarium. After the fast delivery, our dear client and all his neighbors were amazed by the work of Polidomes assembling crew. "The crew had been working like for 18 hours non stop! From 6 a.m. to 12 p.m. – intensive work!  They really gave over to their task." – commented Dr. Danielides.
---
Polidomes is all about custom solutions that include geodesic structures. It is a versatile design that meets various demands. Polidomes' geodesic dome tents are solid and safe, they have fast assembly and dismantle time, and every dome tent can be personalised. As the planetarium expert, Dr. Danielides experienced firsthand the Polidomes' tent high quality. Dome projection screen, designed by Polidomes using a special technology, impressed the scientist with a clear surface that provides the most significant immersive effect. Customized inside liner, manufactured with anti-wrinkle, gray, non-translucent and fire-resistant material made specifically for the best projection results.
Thanks to Polidomes' in-house development and manufacturing we have quality under full control. Moreover Polidomes is known for total solutions that include concept, design, fabrication and installation. So do challenge our limits, we are prepared to do everything in our power to make your project a success!