Inexperienced boy from the small Polish village was celebrating his birthday in Las Vegas.
I have been working at Polidomes since 2012. I started my career at the age of 22, as a young, inexperienced boy. I never expected the things that I would achieve and how much my life would change.
After dropping my studies at the Poznań University of Technology, I returned to my family home in Glinsk near Świebodzin. It was the failure of my life. Leaving my small village with big plans and dreams, I soon discovered a new world in a big city that never sleeps. I had a chance to experience a student's life, which turned out to only be an endless party which consumed me completely and that's how my big plans for the IT industry came to a halt.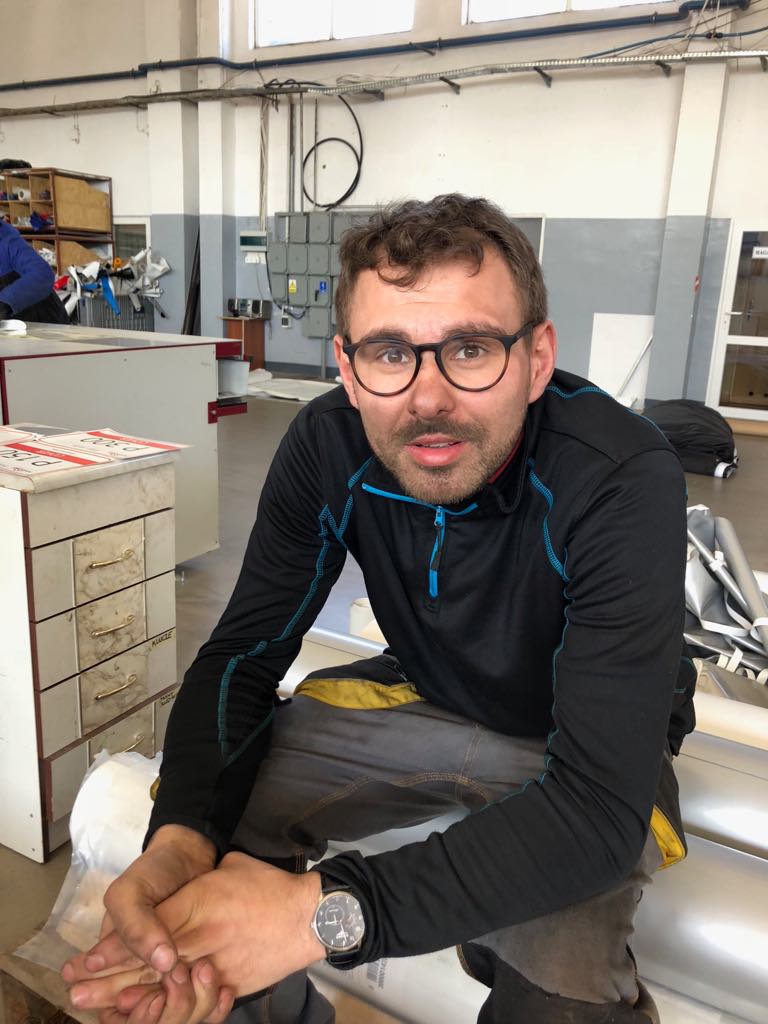 After returning home I began to look for a job. I was trying to find my inner self while caught in a new stage of my life which I had not planned to be in. I had earned some extra money while working as an animator for events during my studies. I found a job advertisement for 'Party Animator' and decided to apply for it. The company was run by Ania – Krzysztof's wife. During the first day of cooperation with Krzysztof (co-owner of Polidomes International) I was doing simple cleaning of an inflatable bouncy castle. After a few days I became interested in what was happening at the production hall in Polidomes.
After a short time, I had two full-time jobs a week, I worked on production, cutting out inflatable balls and welding swimming pools, and on weekends I went to festivals and events, which is how my first summer season passed.
In the autumn there was only work on production in which I became more and more involved. Even at that early time I had already begun to see the great potential that was taking place at Polidomes. We worked in a hall which had formerly been used as cool storage for fruit. It was a thermal hall without windows, the conditions were spartan and tough, but everything must have its beginning. Others have started in garages, while we basically had an old cold room/fridge.
My first year at Polidomes was quite interesting. Krzysztof had sold the first dome tents for EURO 2012, which were to be installed in Ukraine. It was still just the beginning so it wasn't clear which way things were going to go. Most of the season, we had been producing water balls, inflatable swimming pools, and other domes orders came in. I didn't know anything about them. Krzysztof explained to me how the domes are made and that is how my story with domes began…
The work turned into a passion and desire to constantly improve everything.

Kilian Sławomir
I didn't know how much work it took to make a dome or even how the domes should look. There were only 2 of us and a boss. Krzysztof was welding, I was cutting, and then when I realized how much work was waiting for me, I was shocked. It was a breakneck task as we had only 4 days to make 2 tents and I had no idea what we are doing, we worked these 4 days without a break and the last two days we worked another 24 hours without sleep but finally it was done, although unfortunately, it wasn't over. There was still the set up waiting for us which I also knew nothing about, and it wasn't pleasant. Today I still remember the feeling of an unrealistic, painful effort I had never experienced before. The Boss's determination has shown that this determination is the only way to build something great and that was the lesson I learned…
The company began to grow fast. Together with the company's growth I had to grow myself quickly regarding my own know-how capabilities and knowledge of domes. We were always trying to make them better and improve everything faster – ranging from the product itself to the manufacturing technologies. The work turned into a passion and desire to constantly improve everything. Our joint effort and belief in the fact that everything can be done better and Polidomes will be a strong and famous company in which we will not have to only work on production, propelled us forward. It was just a step we had to take to grow stronger.
Each year brought new projects and new challenges, while the breakthrough came with the VOLVO OCEAN RACE project in 2014. A huge company trusted us and ordered 2 x P300 tents from us and this was after 2 years of our hard work in the domes market. From that moment on, nothing could slow us down. Our trademark has been growing stronger since that time – our dreams were at our fingertips – so we reached for them. The team has continued to grow. We had no idea where the company would lead us, but everyone was aware that there is something big waiting for us ahead. The whole company has worked harder as we wanted to be the best and do our best. Of course, not all of the projects were absolutely perfect, we made mistakes that were oftentimes costly and unnecessary, but that did not stop us because we knew that everything could be done better and we will finally reach perfection. Our customers were always in the first place and really important to us, we never wanted to let them down. For us, the trust they put in us, in the trademark, and our products have always been the most important issues.
I remember 2015 was the year we sold our first dome in the USA and the same year we had our first assembly in the Middle East and went to Dubai. Suddenly my world went crazy – there were no more limits – I realized we could do anything!!! After being totally dedicated to the work, it turned out that it was no longer just work, it was a part of my life. I forgot how much strength and sacrifice it had cost me.
3 years… it was a time of only hard work, assembly, work on production, and continuous learning. In the end, everything brought about effects that I had never dreamed of. After coming back from Dubai, I no longer had dreams, my dreams became realistic goals to achieve. Our tents became great but we continued to look for any possible defects we could find as we wanted to improve anything we possibly could. Krzysztof and Karolina gave everything from their side – maximum engagement and they expected the same from us – it was our chance and we took advantage of it as much as we could.
I no longer had dreams, my dreams became realistic goals to achieve.

Kilian Sławomir
I became a supervisor and started making flights to setup domes. I stayed in 5-star hotels, I met people from all over the world, I celebrated successful projects in fancy restaurants and the best night clubs in Hollywood style. I spent my 30th birthday in Las Vegas – of course, I was doing a setup, but it didn't matter. Here it had turned out that me, Sławek, a young man from a small village in Poland, would end up working for Polidomes and build great things and be able to enjoy myself in places that I have only gotten to know through television or even visit places I did not even know existed. And all thanks to being able to do work that I really love.
The following years have only gotten better and better, as we have continually been producing more and better domes. As the company grew larger, our subconscious ambitions and expectations came true. Sometimes it is hard for me to believe in the almost countless montage of stories and experiences we have had around the world but we have worked really hard to make them become a reality…
By becoming a specialist in our niche industry, I wanted to lead everything and I was looking for new solutions which led me to the place where I am now – one of the most important supervisors for Polidomes. My knowledge, supported by vast experience has allowed me to coordinate the assembly of our tents in different parts of the globe. For me, the last 3 years have been one great journey. In 2019 I made 28 flights that in total lasted over 100 hours.
It wasn't the tents that built the company, but only a handful of people with passion…

Kilian Sławomir
We have achieved everything we have been striving to do successively. Now looking at the world map, I cease to mark the places to visit, now it only shows where we have not yet been… Polidomes has provided me with opportunities I have never dreamed of and I did everything I could to take advantage of them and help the company do new and amazing projects. Now we don't only make tents anymore, we design and produce visionary designs, we have recently made a prototype structure over a football field that no one else has ever made before, we produce projection cinemas, we have built domes on a volcanic mountain in Iceland. Now we have the confidence and we are ready and able to take the biggest risks and to construct the most demanding structures needed.
It wasn't the tents that built the company, but only a handful of people with passion led by Karolina and Krzysztof, and their charisma and persistence which has lead us to achieve "impossible" things. I think it doesn't matter what we produce – although we all love what we do, if we were to produce something else, we would do so the same way with the same commitment and passion. Fortunately, we manufacture geodesic dome tents and we do so the best in the world. I think we will never stop producing those but at the same time, I can't even imagine what is waiting ahead for us and to be honest I can't wait!